It's been a while since TooStalky—a guy who frequently stops by my house and yells, "Lisa, Lisa" (which, by the way, is not my name)—has made his rounds.
The other day, MiniMe and I were sitting in the front room when we heard this, "Lisa, Lisa. Hello. Open the door. Hello."
"Shit, it's TooStalky! Close the blinds. Lock the doors," I told MiniMe.
We did so and successfully avoided having to say, over and over again, "We don't have any work for you right now."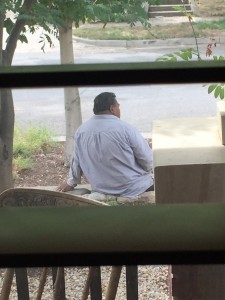 A few days later he returned and, as luck would have it for him, I was hanging out on the stoop with Rated R and Live Longer.
"Lisa, I need some work," were the first words out of his mouth.
"Hi. I don't have anything for you to do right now." I replied.
"You need mulch," he advised.
"I can do that myself," said I, proudly.
"I will trim your trees," he then offered.
"I can also do that myself," I advised.
"You'll cut off your arm. Come, let's go take look," he said and started walking toward by back 40.
As we walked he asked, "May I tell you something? You don't get mad?"
"Sure," I said knowing that with a disclaimer like that whatever he was going to tell me was probably going to upset me.
"You look fat," he flatly stated then attempted, again, to convince me I should hire him.
I, politely, replied with a big fat "NO!"